Stacy's BGG is a great choice for intimate celebrations such as baby showers and birthday parties for kids.
Stacy's in Bonifacio Global City (BGC) is possibly your best choice if you are planning to hold a party or celebration in an intimate venue.
Baby shower for Miguel
Stacy's BGC: an intimate Baby Shower Party for Miguel
Why we chose Stacy's BGC
In December 2017, we had our baby shower party for Miguel, one of our year's most important highlights, at Stacy's BGC.
Whenever we have important celebrations, we always strive to keep the number of guests at a minimum.
As such, among all the restaurants and venues that we considered for our baby shower party, Stacy's BGC was an easy choice for us because its seating size was perfect for small and private gatherings. Looking at its fun and lively interiors, it seemed as if it were made just for children's celebrations.
In addition to welcoming our Baby Miguel, the celebration was also meant as a thanksgiving for family and friends who prayed with us and encouraged us throughout our 3-year journey towards having a baby.
Beautiful decors at Stacy's
What we loved most about Stacy's was that its cozy interiors only needed very little styling.
We opted to get a light dinner menu set which included Classic Caesar Salad with Grilled Chicken, Tuna Melt Canapes, Texas Barbecue Ribs, Herbed Cream Dory with Aioli Dip, Spaghetti with Meatballs, Steamed White Rice, and Cupcakes for Desserts.
Drinks, meanwhile, included Lemonade, and Lemon and Raspberry Iced Tea. We also added Merry Mix Mugs (popcorns, pretzels and biscuits) so that our guests would have something to munch on while waiting for the food to be served.

The party package already included a cake, party banner, house music, party placemats, and centerpiece. Most decorations were provided by Stacy's except for our candy giveaways and balloons.
All in all, the party package cost amounted to
Php27,775
for
40 pax
. That is also inclusive of a 10% service charge. I think that is already a good price considering the quality of the food as well as the venue itself.
The proud parents
We did not really have a program because we wanted it to be a fluid and free-flowing event with lots of interaction among our guests. We had some games thought to spruce up the party.
Our family photo
With Khris' college friends
Photo with Miles, my cousin's wife, and her son
With Melay and Maiet
In the end, we were happy because it was a successful and fun event filled with warmth from the people who are important to us.
With my cousin and his family
Of course, our little party would not have been successful if not for Stacy's expertise and support. Aside from its attractive interiors, here are some of the reasons why we love Stacy's:
1. Friendly and accommodating staff
From the moment we inquired until our initial meeting and ocular, they were very efficient in answering our inquiries and providing as many options to make our event personalized. Special thanks to Carmela, one of their coordinators, who was very hands on and who saw to it that all the details that we requested for were fulfilled.
2. Scrumptious food
Food can make or break an event, aside from the hospitality of the hosts, of course. Good food creates happy memories, bad food creates bad reputation.
The food that we ordered for our baby shower party
During our ocular and meeting, we tried Stacy Jones, tender yakiniku cut US beef sirloin tapa served with eggs and garlic rice, and Sunshine Burger Steak, a thick beef patty served with mushroom gravy, eggs, and garlic rice. Both were delectably good but Stacy Jones was unforgettable with its perfect mélange of tart, sweetness, and saltiness.
As for our Baby Shower, what emerged as the winner was the tender and flavorful Texas Barbecue Ribs. These were tender chunks of meaty beef ribs coated generously with smoky barbecue sauce. It was an ultimate comfort food, best eaten with rice, of course. As we had expected, this disappeared fast so we had to request for additional batches to be cooked.
The Tuna Melt Canapés were also delicious; a little creamy yet light, perfect for whetting the apetite.
The Caesar Salad, meanwhile, was fresh and perfect as a starter. The lettuce was crisp and the dressing was creamy but not overpowering. And for the kid-at-heart, the spaghetti with meatballs is the perfect comfort food.
3. Beautiful interiors with retro decors
We had a 1920s-themed wedding so when we saw the retro decors at Stacy's, we knew it was the perfect venue for us. Aside from the decors, the lighting and the color combo added to the overall charm of Stacy's.
Retro radio
Mini Volkswagen
4. Affordable packages
Who doesn't love getting value for money? Stacy's offers one of the more affordable packages among the restaurants that we surveyed. Of course, one has to weigh cost, quality, and package inclusions when making a decision. We are very happy that we picked Stacy's for this important occasion.
Keeping our baby shower lively with some games
We also celebrated Mama's birthday
With Ms. Fans and her kids
With Venice, Myrene, Sisa, and Mila
Aside from Baby Showers, Stacy's also accepts reservations for baptismal and birthday parties. They also welcome walk-in diners who would like to enjoy a filling meal or a nice dessert.
With my former colleagues
With Melo and her husband
How to go to Stacy's BGC
The place is easily accessible from Kalayaan, then 3rd Ave. in BGC. It's almost across Mind Museum. Parking is also no problem since there are paid parking spaces around the restaurant.
LOCATE STACY'S BGC
Will we recommend Stacy's BGC to other parents who are planning a baby shower? Definitely.
For inquiries and reservations, you may call Stacy's BGC at 8555-0140. Stacy's also has a branch at Capitol Hills, Quezon City (telephone number 8952-6843).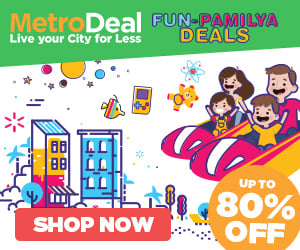 For similar stories, please click
here.
PIN THIS ARTICLE
Disclaimer: This is not a sponsored post. All opinions are ours.
This post may contain affiliate links, including those from Amazon Associates, which means that if you book or purchase anything through one of those links, we may earn a small commission but at no extra cost to you. All opinions are ours and we only promote products that we use.