Find out how we made it to Feedspot's top 100 couple travel blogs in the world.
Feedspot recently named this blog, Dad On The Move, as one of its top 100 (we are number 93) couple travel blogs in the world. According to Feedspot, the list is the most comprehensive roster of best Couple Travel blogs on the World Wide Web.
Dad On The Move is included in Feedspot's Top 100 Couple Travel Blogs in the World
While we were elated when we received the email from Feedspot informing us of the good news, it was honestly a citation that was remotely in our minds. Of course, we put great care in terms of grammar and information when writing our articles but we felt like it was too much to be included in the big league of blogging.
Think of Two Monkeys Travel Group, Who Needs Maps, and Nomadasaurus – these are all long-established, respected, and trusted travel blogs all over the globe. Nonetheless, we are still grateful for this honor. After all, who are we to say no to a blessing? It just felt good to receive recognition after a long time.
The Feedspot selection process
All of the blogs included in the Top 100 Couple Travel Blogs in the World are ranked using the set of criteria below:
• Google reputation and Google search ranking
• Influence and popularity on Facebook, Twitter, and other social media sites
• Quality and consistency of posts.
• Feedspot's editorial team and expert review
Looking at the standards above, I guess the only distinctive factor that we did this year on our blog was to post consistently. We try our best to post at least five times a week to keep our content fresh and updated.
These posts mostly about travel and travel news, travel gadgets, food and restaurant reviews, hotels and resorts, some book reviews, and other important travel and tourism industry updates. Aside from our own experiences, we curate content from reliable industry sources and news sites.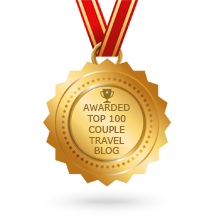 Epilogue
While the inclusion in the list does not come with any monetary prize or token, it is the distinction of being included in a global blog roll that counts.
For those who are unaware, Feedspot is a newsfeed aggregator. It helps readers keep track of all their favorite blogs, news sites, YouTube channels, and RSS feeds in one place. It makes checking your favorite sites as easy as checking your emails.
This post may contain affiliate links, including those from Amazon Associates, which means that if you book or purchase anything through one of those links, we may earn a small commission but at no extra cost to you. All opinions are ours and we only promote products that we use.