Find out how you can monetize your blog by signing up in the Agoda Affiliate Program.
Agoda, a popular worldwide hotel booking site, offers an affiliate program that allows bloggers to earn incentives for every successful referral hotel booking. Signing up is easy and implementation of the affiliate codes is also simple. Bloggers can choose from a variety of promotional formats based on what design works best for their websites.
How to apply for the Agoda Affiliate Program
My experience with Agoda
I first heard of Agoda through Khris because this is where she would look for hotel prices and compare them to each other. Although we have not tried (or heard about) Agoda before, what I liked most about the site is that it already carried a good number of hotels and lodgings.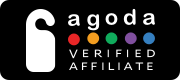 It was a good mix of easy-on-the-pocket bed and breakfast to top-tier hotels, thus catering to a broad segment of travelers. The brand of Agoda also somehow stuck to my mind because of the simplicity and straightforwardness of its name. It is an international brand that aims to provide great value to travelers from all walks of life.
Signing up is simple
What's good about Agoda is that it allows bloggers to earn through commissions from affiliate sales. What's to love about Agoda's affiliate program?
Sign up form
First, it was very easy to sign-up. Just fill out the online registration form
here

,
by supplying your personal information and submitting your bank details.
Agoda will then send a confirmation email to your email address. Once you have confirmed your registration through the link that will be sent to your email, Agoda will send you instructions on what to do next.
In essence, you need to insert your promotional link on your website which Agoda will check. Once the link has been confirmed to be live, Agoda will send another email welcoming you to the affiliate program.
The second reason that I love Agoda is that integration is easy. You can choose to run static banner ads, search widgets, hotel and destination links, and image links. Hotel data is also available for download to help you decide on which property or location to feature on your site.
Based on my experience, while banner and search ads look good, I found that hotel and city or destination links to be the most effective and less intrusive.
How commission is paid in Agoda
Agoda affiliates earn income based on revenue share. When clients click through your Agoda ad and make successful bookings, you will be paid a percentage of the total gross commission earned from the completed transaction.
Sign in form
To better illustrate, please refer to the commission rates below:
1-50 completed bookings, 4% commission
51-100 completed bookings, 4.5% commission
101-200 completed bookings, 5% commission
201-1000 completed bookings, 6% commission
More than 1000 completed bookings, 7% commission
Moreover, if you are a frequent traveler who does a lot of hotel bookings, you can make your own booking within your affiliate page and that will be counted in your commission.
In terms of payouts, what I also like about Agoda is that it supports almost all local banks. If you have an existing bank account, you may use it for receiving your commission.
Agoda also lets you easily track the performance of your ads through the analytics, which you can access via the dashboard page of your profile.
And for clarifications, the FAQ section of your affiliate page is a helpful reference.
Epilogue
For bloggers who are looking at further monetizing their websites, the Agoda Affiliate Program is definitely worth a try. It's also a good way of helping out readers in getting the best hotel and accommodation deals in some of the top destinations in the country and around the world.
PIN THIS POST
This post may contain affiliate links, including those from Amazon Associates, which means that if you book or purchase anything through one of those links, we may earn a small commission but at no extra cost to you. All opinions are ours and we only promote products that we use.