Find out why World Nomads offers one of the best travel insurance products in the market.
Getting travel insurance on your next adventure is probably one of the wisest investments that you can make. With travel insurance, you are assured of peace of mind knowing that you have a good back up just in case something untoward happens during your trip
The 8 Top Advantages Of Getting World Nomads Travel Insurance [Review]
Why get travel insurance?
You have planned out your travel itinerary well, scored a good airfare deal via a recent seat sale, and packed your backpack for a week of unperturbed wandering abroad, but have you booked travel insurance for yourself?
You might say that you have done similar trips many times before, so what could go wrong? When people are out having an awesome time, the last thing that they want to think about is how to deal with any untoward incident during your trip, whether it's an accident, sickness, or missing luggage.
So the next time you prepare your itinerary, try to consider the following:
Unexpected cancellation of bookings such as flights and hotels due to an emergency.
Sickness and injuries during your trip.
Lost luggage, laptops, or smartphones while you are cruising through an unfamiliar location.
The horror of having your passport stolen.
There are different types of insurance products in the market such as life insurance and medical insurance, and even free insurance that comes with using some credit cards.
However, the best solution that you may want to get if you are globetrotting is travel insurance because of its comprehensive coverage that is made specifically for adventure-seekers.
One such travel insurance provider is
World Nomads
, whose services are tailored specifically for independent travelers and daring families.
Benefits of World Nomads travel insurance
So what makes World Nomads perfect for travelers?
Here are some of its advantages, and generally of travel insurance:
1. It allows you to book anytime and anywhere
World Nomads takes into consideration the lifestyle of travelers, which means being up and about and on the road most of the time.
As such, World Nomads offers the convenience and flexibility of online booking, so customers can pay for services at the most convenient time for them, say while enjoying a cup of latte in a cafe.
What's more, travelers have the luxury of thinking about the services over and not deciding right away because they can avail of travel insurance even if they are already on the road and wandering.
Also, if you have existing travel insurance but you want additional coverage, you can do so with World Nomads over the internet. And if you suddenly need to make a claim, you can also do it online – it's that convenient.
2. It provides round-the-clock emergency assistance
Emergencies can happen anytime and without warning. World Nomads offers multi-lingual assistance 24/7, whenever you need medical treatment and transportation.
3. It allows you to enjoy coverage for over 150 activities
World Nomads covers a broad range of activities, such as skiing, snowboarding, or whitewater rafting. So, go ahead and take on different adventures or try out new stuff without too much hesitation.
4. It has competitive travel insurance rates
World Nomads focuses only on what is essential for travelers and excludes services that are not relevant. As such, customers may enjoy competitive rates when they request a travel insurance quotation.
5. It can cover your expenses on canceled trips
You will suffer a monetary loss if for some reason your trip gets canceled like you encountering a family emergency or if your companion decides to back out of your long-planned escapade.
In unfortunate times such as these, good travel insurance will cover your expenses. Of course, it's not always guaranteed that you will receive a full refund but that's always better than getting nothing at all.
6. It will help cover your sickness and hospitalization expenses while traveling
There's nothing more disappointing than having your holiday cut short but it even gets more depressing if you get ill or hospitalized while living out your adventure.
It's hard to focus and have a clear mind if you are alone in a hospital bed while in a foreign land. But if you have travel insurance, you will have nothing to worry about expenses related to medical or dental services.
Additionally, your travel insurance may also include coverage of your emergency medical transportation that will take you, for example, from an accident site to the nearest hospital.
7. It can cover lost gadgets and baggage
You've invested your hard-earned money on your laptop, camera, and smartphone so that you can capture stunning photographs and videos of your travels.
Naturally, you do not want your gadgets getting damaged or stolen, especially if you are a travel blogger who relies on your devices for your means of income.
However, untoward incidents happen, and it's also a fact that there are unscrupulous individuals everywhere who are ready to take advantage of unsuspecting tourists.
So, if you happen to lose your gadgets while on the road, your travel insurance will cover your losses.
Also, if your luggage is delayed, World Nomads will cover you to ensure that you will have all the essential items that you need until your baggage arrives.
8. It gives back to communities worldwide
As a way of giving back to communities, World Nomads connects travelers to various projects around the globe.
These are projects managed by established charities that travelers can support based on the destinations that they like and the type of cause that they support. World Nomads makes it possible through the Footprints Network.
If you are interested to get travel insurance, you may
request a quote
from World Nomads. Please note that the availability of some services is dependent on your location.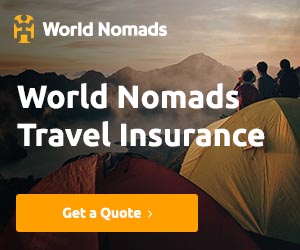 Epilogue
Some people may think that travel insurance is just another expense type. While that may be the case, the truth is we are putting ourselves at risk each time we go out.
One way to protect ourselves against the risk of traveling is to get travel insurance. It's a great investment that is all worth it when something untoward does happen during our trip.
PIN THIS POST
Disclosure: This post contains affiliate links. If you book through any of it, we may get a small percentage at no extra cost to you. All proceeds will go to the maintenance of this blog.
This post may contain affiliate links, including those from Amazon Associates, which means that if you book or purchase anything through one of those links, we may earn a small commission but at no extra cost to you. All opinions are ours and we only promote products that we use.